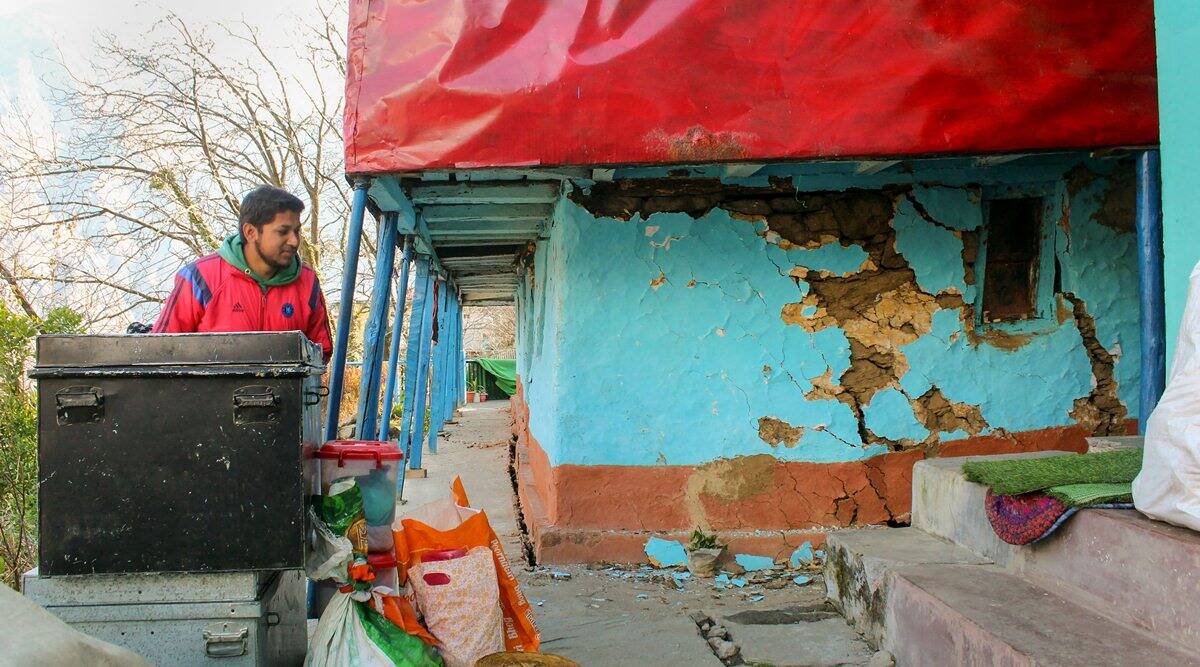 The National Disaster Management Authority (NDMA) has ordered a dozen government institutes and scientific organisations not to interact with the media or share data on social media regarding ground subsidence at Joshimath in Uttarakhand, stating that their "interpretation of the situation" is "creating confusion not only among affected residents but also among citizens of the country."
On Friday, the Indian Space Research Organisation's National Remote Sensing Centre removed from its website a preliminary report depicting "rapid sinking" in portions of Joshimath.
In the village of Joshimath, "slow subsidence" of up to 8.9 centimetres was recorded over a period of seven months beginning in April 2022, while Cartosat-2S satellite data acquired by ISRO reported "rapid subsidence" of almost 5 centimetres in just 12 days beginning on December 27.
Saturday, NRSC officials were unable for comment over the report's removal. The ISRO representative did not reply to an email forwarded to them.
However, Uttarakhand cabinet member Dhan Singh Rawat told The Sunday Express that the ISRO report caused fear in Joshimath, so he contacted the ISRO director and requested him to withdraw the information.
"There was a claim on the website that there is land sinking, which caused widespread concern here" (in Joshimath). This is why I requested that he only issue official remarks and refrain from posting anything on the website without authorization… I requested that they only say the truth… if this is not the case, then it should be removed from the website. Rawat stated, "I requested that they provide official reports and refrain from creating alarm unless there is an official report."
According to him, the NDMA letter was issued after the Uttarakhand government informed the organisation that any report pertaining to Joshimath required prior approval from the Centre or the state government.
"We have asked for the NDMA. I communicated directly with the ISRO director… The primary purpose of this is to prevent panic among the public. People here are already in distress, said Rawat.
On Friday, the NDMA issued a memorandum restricting Joshimath-related media interactions and social media data sharing. It was addressed to the Director, Central Building Research Institute (CBRI), Roorkee; DG, Geological Survey of India (GSI), Kolkata; Director, NRSC-ISRO, Hyderabad; Chairman, Central Ground Water Board (CGWB), New Delhi; Surveyor General of India, Survey Office of India (SOI), Dehradun; Director, Indian Institute of Remote Sensing (IIRS), Dehradun; Director, National Geophysical Research Institute (NGRI), Hyderabad; Director,
In its office memorandum, the NDMA stated, "It has been noted that numerous government institutions are disseminating subject-related material on social media platforms and interacting with the media with their own interpretation of the situation. It is causing confusion not only among those impacted, but among all people of the nation."
It stated that "the subject was raised at a meeting presided over by the Honorable Union Home Minister on January 12, 2023."
"Accordingly, it was also considered at a meeting led by the Member Secretary of the NDMA on January 12, 2023. In addition, a group of experts has been assembled to analyse the ground subsidence at Joshimath, according to the report.
"You are requested to educate your organisation on this topic and refrain from putting anything on the media platform until the NDMA releases the final report of the expert panel," the NDMA stated.
State Congress president Karan Mahara questioned the NDMA order and the Uttarakhand government's role in it, accusing the state administration of "hiding the truth that they never listened to the experts and none of their ideas were ever adopted."
Former Chief Minister Harish Rawat commented, "This is regrettable. What is occurring in Joshimath demands a great deal of public attention. All perspectives should be heard. The other agencies will begin to crystallise matters only once a variety of opinions and recommendations have been presented. If alternative viewpoints are not accepted, then this is not a positive development."
"In this day of great technology, how would you conceal the ISRO's discovery? If not ISRO, then satellites from other nations will do the same observations. Then, these reports will be published outside of India and will reach us. Wouldn't that be embarrassing for ISRO and the nation? Information from external sources will exacerbate the panic. If ISRO has something to say, it should be communicated to the public. No panic exists in Joshimath. "We assure you that we will cooperate with you to ensure that the situation remains tranquil," Rawat added.