India
Post-G20, India and Saudi Arabia strengthen corridor and strategic ties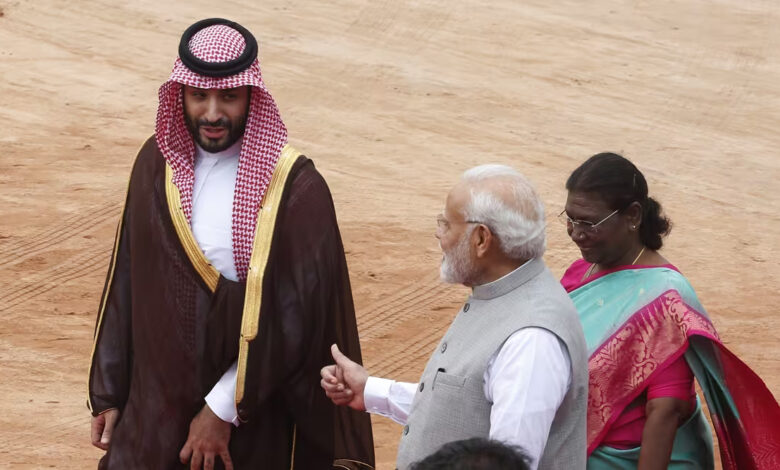 Days after the India-Middle East-Europe Economic Corridor (IMEC), an ambitious infrastructure project that will connect India to Europe via West Asia, was unveiled at the G20 Summit, India and Saudi Arabia signed eight agreements on Monday to strengthen cooperation in a variety of areas, ranging from energy to interconnectivity, digitalisation and electronic manufacturing, finance, and security.
After the completion of the G20 Summit, Prime Minister Narendra Modi met bilaterally with Saudi Crown Prince and Prime Minister Mohammed bin Salman Bin Abdulaziz Al-Saud, who was on a day-long State visit.
Modi and MBS, as the Saudi Crown Prince is known, co-chaired the first meeting of the India-Saudi Arabia Strategic Partnership Council, which was established in 2019.
"In response to the changing requirements of the moment, we are bringing a fresh and modern dimension to our relationships… Saudi Arabia is one of India's most crucial strategic partners… "As the world's two largest and fastest growing economies, our cooperation is critical for the region's peace and stability," Modi added.
"I am delighted to be in India. I'd like to congratulate India for hosting the G20 Summit…There were numerous announcements that will benefit both our countries, the G20 countries, and the entire world. So I want to congratulate India, and we will work together to build a future for both countries," MBS stated.
Ausaf Sayeed, Secretary in the Ministry of External Affairs (MEA), said later in a press conference that the two sides inked eight agreements, including one on upgrading their hydrocarbon energy collaboration to a comprehensive energy partnership for renewable, petroleum, and strategic reserves.
According to Sayeed, the two sides also agreed to establish a joint task force for US$ 100 billion in Saudi investment, half of which is slated for a delayed refinery project along India's western coast.
Sayeed stated that interconnection between India and the Gulf countries would include ports, trains, and improved highways, as well as power, gas, and optical fibre networks.
According to officials, India will be linked by railway under the international IMEC, which was unveiled on the margins of the G20 Summit. The proposed rail and port proposal, which includes the United States, Saudi Arabia, India, the European Union, and the United Arab Emirates, is seen as a reaction to China's Belt and Road Initiative.
The agreements cover collaboration between India's Central Vigilance Commision and Saudi Arabia's anti-corruption arm, investment firms, small and medium-sized enterprise banks, the two nations' national archives, and desalination and renewable energy.
The two sides also talked about trading in local currencies and speeding up discussions for a free trade deal between India and the Gulf Cooperation Council, of which Saudi Arabia is a member.
Over a dozen Memorandums of Understanding (MoUs) were also signed between Indian and Saudi Arabian enterprises, covering a variety of industries such as information technology, agriculture, pharmaceuticals, petrochemicals, and human resources, among others.
"The Crown Prince complimented India on a very successful G20 meeting, with several key outcomes… The two parties acknowledged their delight at the opening of the India-Middle East-Europe Corridor… "The PM also congratulated the Kingdom on its admission to the BRICS," stated Sayeed.
"Both sides praised the key initiatives taken by both governments to improve the business climate, simplify and rationalise rules for relaxing foreign direct investment norms, ease of doing business, and India's reforms." According to a joint statement, "both sides discussed further facilitation of investments from Saudi Arabia's sovereign wealth fund and its portfolio companies."
Both parties also mentioned ongoing discussions on the Bilateral Investment Treaty, Double Taxation Avoidance Agreement, and Mutual Legal Assistance in Customs Matters, according to the statement.
Also read: Saudi Arabia may create a sovereign wealth fund office in India.
Given the economic transformations occuring in both countries as a result of Saudi Arabia's Vision 2030 and India's flagship initiatives such as Make in India, Start-up India, and Digital India, both sides expressed an interest in strengthening economic ties and exploring various investment opportunities in various strategic sectors, according to the statement.
According to the statement, both parties agreed to investigate prospects for collaboration in payment systems, including the acceptance of RuPAY cards in Saudi Arabia for the benefit of the Indian community in general and, in particular, Haj/ Umrah pilgrims.
"The significance of trade in the bilateral relationship was acknowledged." Both parties commended the growing trade links, noting that bilateral trade has climbed to more than US$ 52 billion in 2022-23, a 23% increase. Both parties also emphasised that India is Saudi Arabia's second largest trading partner, while Saudi Arabia is India's fourth largest trade partner," it said.
According to the statement, the two sides praised their growing defence cooperation and agreed to continue "considering possibilities of joint development and production of defence equipment."
"Both sides emphasised that terrorism, in all of its forms, remains one of humanity's most serious threats." They all agreed that there can be no justification for any act of terror for any purpose. They opposed any attempt to associate terrorism with a specific race, religion, or culture. Both parties urged all states to reject the use of terrorism against other countries, dismantle terrorism infrastructure wherever it exists, and bring terrorist culprits to justice as soon as possible. Both sides emphasised the need of preventing terrorists from gaining access to weaponry such as missiles and drones," the statement stated.
It also stated that "the two sides stressed the importance of achieving security and stability in Afghanistan and forming an inclusive government that represents all spectrums of the Afghan people, as well as not allowing Afghanistan to be used as a platform or safe haven for terrorist and extremist groups."
According to the statement, India also commended Saudi Arabia for providing good care to over 2.4 million Indians who live there, extending support for evacuating Indian nationals stuck in Sudan via Jeddah under Operation Kaveri, and facilitating Indian Haj and Umrah pilgrims.
Later that evening, President Droupadi Murmu organised a banquet for the Saudi Crown Prince, during which she stated that Saudi Arabia had welcomed a huge number of Indian expats and provided them with opportunities to thrive and prosper.
Related Posts