India
A cold wave hits northern India, and temperatures will begin to fall in Delhi today.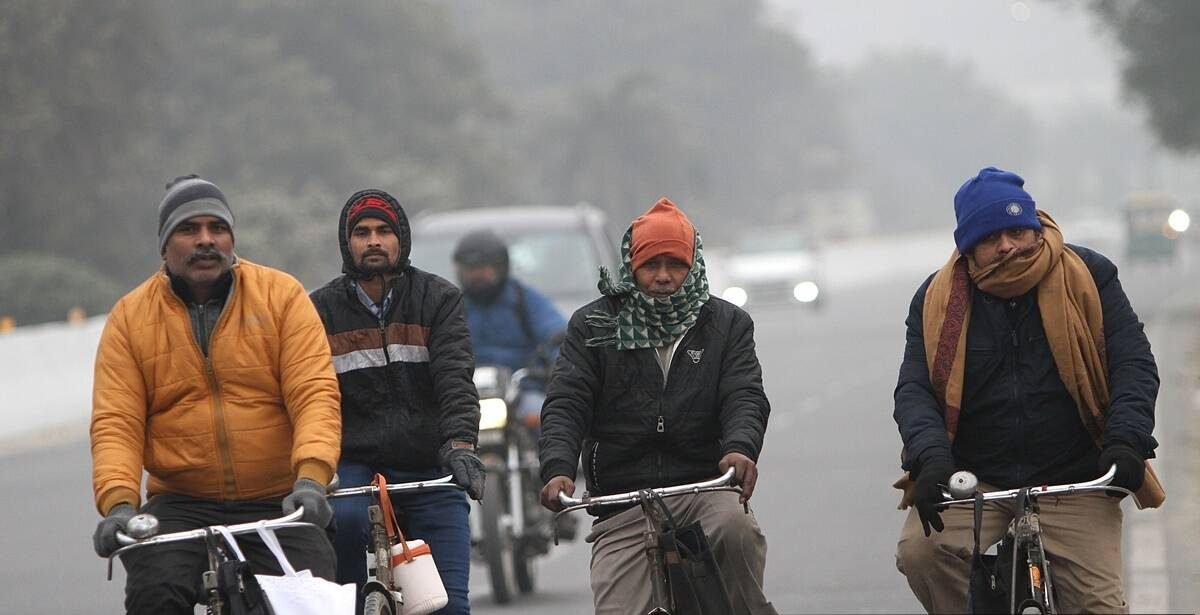 The India Meteorological Department (IMD) has projected that from Sunday onwards, Punjab, Haryana, and Chandigarh will experience a cold wave as the western disturbance begins to dissipate and frigid northeasterly winds from the snow-covered mountains move into the plains.
Delhi, which is experiencing its longest cold wave stretch in a decade, will also experience a drop in temperature beginning on Sunday; severe cold wave conditions are expected to affect the national capital from January 15 to 18. From Sunday onward, the weather service predicts extreme cold wave conditions across parts of Rajasthan and over Punjab, Haryana, and Chandigarh on Monday.
On Sunday, the Saurashtra and Kutch areas and portions of Karnataka will also experience cold wave conditions. It is anticipated that parts of Madhya Pradesh and Uttar Pradesh may experience cold wave conditions the following week.
Over the next five days, dense fog is anticipated throughout the early morning hours in Punjab, Haryana, Chandigarh, Delhi, and Uttar Pradesh regions.
Before the western disturbance offered respite, large portions of north and northwest India experienced below-normal maximum and minimum temperatures on the majority of days this month, according to an IMD official speaking to PTI.
According to local authorities, three avalanches struck Ganderbal and Bandipora districts in Jammu and Kashmir on Saturday, although no casualties were reported. Following moderate to severe snowfall on Friday, it was reported that avalanche warnings were issued for 12 districts.
Saturday saw widespread temperature drops in Delhi's neighbouring state of Punjab, as the prevailing cold weather intensified. Minimum temperatures in Bathinda (0.6 degrees Celsius) and Amritsar (1.2 degrees Celsius) hovered near to the freezing zone. The highest temperature in the state capital Chandigarh was 13 degrees Celsius, and the lowest temperature was 11.4 degrees Celsius.
Ambala, in Haryana, registered a high temperature of 14 degrees Celsius. The maximum temperature in Sirsa settled at 17.5 degrees Celsius, 15.5 degrees in Hisar, 14.8 degrees in Rohtak, 14.7 degrees in Bhiwani. In light of the chilly weather, the government of Haryana has extended the winter break for all schools in the state until January 21.
In accordance with the IMD, a cold wave is declared in the plains when the minimum temperature falls to 4 degrees Celsius or when it is 10 degrees and 4.5 notches below average. A severe cold wave occurs when the minimum temperature falls below 2 degrees Celsius or when the deviation from normal norms exceeds 6,4 notches. A chilly day is one in which the minimum temperature is at least 10 degrees Celsius and the maximum temperature is at least 4.5 degrees Celsius below average. A severe cold day occurs when the high temperature is at least 6.5 degrees Fahrenheit below average.
Meteorological data revealed that Himachal Pradesh saw snowfall at several locations: 23 cm in Manali, 16 cm in Khadrala and Shillaro, 12 cm in Kufri, 10 cm in Bharmour, 6 cm each in Shimla and Gondla, 4 cm in Dalhousie, Kalpa, Hansa, and Keylong. The Shimla weather station forecasts dry weather in the region till Wednesday and warns of severe fog and chilly waves in the low hills until Tuesday.
In Jammu and Kashmir, valleywide nighttime temperatures dipped below the freezing mark. Friday night in Srinagar, the temperature reached a low of minus 0.1 degrees Celsius. The lowest temperature recorded in the frontier district of Kupwara was – 3.6 degrees Celsius. Pahalgam in the district of Anantnag recorded a low temperature of minus 5.9 degrees Celsius. The minimum temperature at Gulmarg, Baramulla district, dropped from – 0.6 degrees Celsius to minus 11 degrees, making it the coldest place in Jammu & Kashmir ever recorded.
Isolated regions of Karnataka were experiencing cold wave conditions on Saturday, according to the IMD.
A few locations in Uttarakhand, Punjab, south Haryana, and north Rajasthan could likely experience ground frost on Sunday, according to the Met. Arunachal Pradesh and east Assam could receive thunderstorms with hail and lightning in the east.