India
How Pakistani media reacted to Shehbaz Sharif's remarks: "India, Pakistan must bury the hatchet" and "give peace a chance."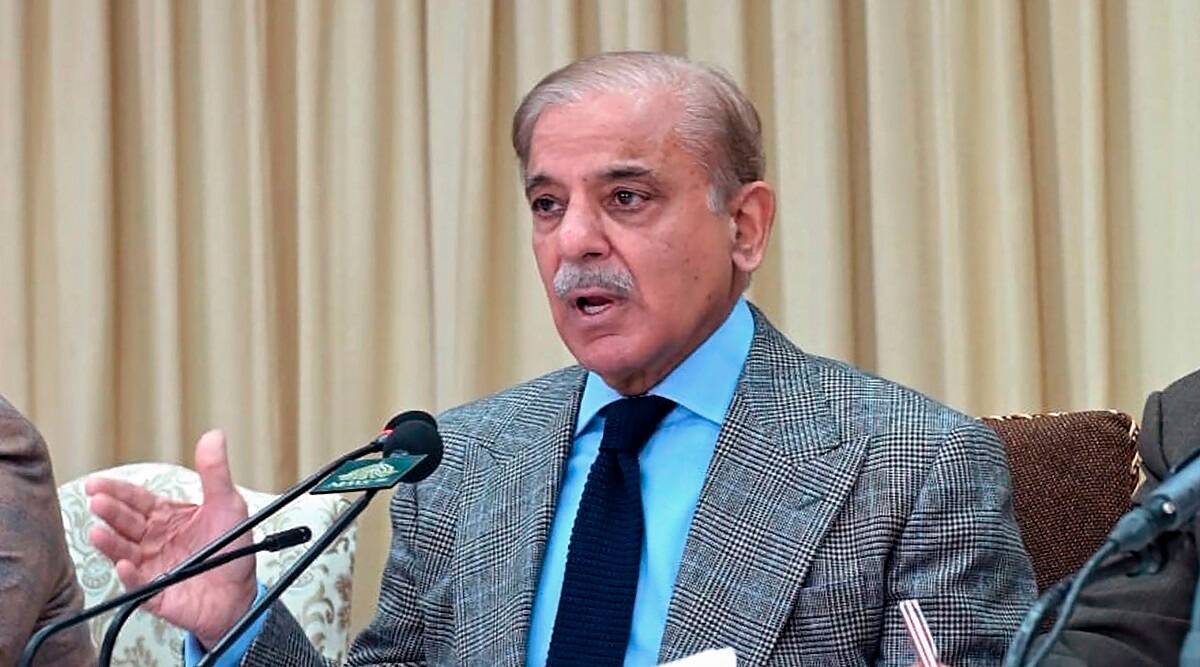 Shehbaz Sharif, the prime minister of Pakistan, has stated that he desires "sincere and serious" discussions with India on "burning problems" such as Jammu and Kashmir, and has called for peace with the neighbouring nation. In an interview with Dubai-based Al-Arabiya on Monday, Sharif stated that his nation had learned its lesson during three wars with India that "only brought more suffering, poverty, and unemployment."
"My message to the Indian leadership and Prime Minister Modi is that we should sit down to the table and engage in genuine and sincere discussions to tackle our pressing issues, such as Kashmir. Sharif was cited as saying, "It is up to us to live quietly and make development, or to argue and waste time and money."
Here is a look at the editorial responses of the Pakistani media to his statement.
DAWN: Foreign Mediation
Sharif stated the UAE might facilitate a Pakistan-India conversation on Kashmir in response to Sharif's request that foreign intermediaries help overcome the trust gap in South Asia. Pakistan's Dawn newspaper stated, "While Pakistan has always been receptive to international participation in its "internal" affairs, India has presented a resolute front, opposing such involvement."
In an interview, Sharif referred to UAE's ruler Mohamed bin Zayed Al Nahyan as a "brother of Pakistan" who has "excellent connections with India" and asked him to facilitate a Kashmir conversation between India and Pakistan.
The editorial in Dawn stated, "The reality is that despite this circumstance, both parties do listen to powerful common friends behind the scenes, and if these friends sincerely offer their good offices, they should be accepted by both sides, even if it merely leads to bilateral talks about talks."
It further stated that Pakistan's efforts to engage in bilateral talks with India should be "headed by elected leadership with establishment support."
Before other confidence-building measures such as "easing visa restrictions, resuming cultural and sporting exchanges and restoring the high commissioners in both the capitals," the publication advocated for the immediate reinstatement of the high commissioners in both capitals in order to "reduce the toxic narrative."
PAKISTAN TODAY: Talking Kashmir
The editorial in Pakistan Today applauded Sharif's call to normalise relations with the nation's "recalcitrant eastern neighbour," but stated that this should be done "while firmly supporting the Kashmiris' right to self-determination in all international forums."
"India's persistent baseless charges that Pakistan sponsors terrorism can only be handled in a meaningful and satisfactory manner if India can present reliable and verifiable evidence of this activity so that Pakistan can take corrective measures. This can only be accomplished by sitting across from one another at the bargaining table, not via the use of exaggerated declarations by foreign embassies or patriotic media programmes, the editorial stated.
It was asserted that the termination of Kashmir's special status in August 2019 "pushed young political activists to become militants," hence "further straining relations between Pakistan and India."
Any battle between India and Pakistan, who both possess nuclear weapons, could be deadly not only for the two neighbouring countries, but for the entire region and beyond, warned Pakistan Today.
According to the report, the tensions between the countries have compelled them to allocate a "substantial portion" of their budgets to defence instead of education, health care, and poverty reduction.
Enhancing trade and facilitating people-to-people connection, according to the editorial, can assist in resolving all conflicts between the two countries, particularly Kashmir.
NATIONAL POLICY: Regional Stability
Sharif's efforts to improve Pakistan's relationship with India are "as sincere as ever," according to an editorial in The Nation, but "the words are likely to be adversely greeted in India," the editorial continued.
This effort to rebuild the shattered connection is as sincere as ever, but there is no assurance that it will be successful. "India must be willing to talk, make concessions, and resolve the diplomatic stalemate we've been in for years," it stated. "Despite the goals of our own administration, the words made by Prime Minister Shehbaz Sharif during the interview are likely to be adversely received in India, which is a frequent occurrence whenever we emphasise our readiness to collaborate and India's reluctance to it."
It stated that trade and development prospects are currently "going to waste" and that "neighbours must bury the hatchet in order to reap the benefits of a good collaboration."
Concerning Kashmir, it was stated that the Indian government is "unwilling to admit the unlawful actions it has taken in Kashmir."
THE INTERNATIONAL NEWS: Discussions With India
The publication The News International writes in an editorial, "It can hardly be disputed that neighbours should strive for peace, negotiate instead of resorting to violence, and seek mutual benefits rather than launching arbitrary attacks on one another."
It stated, "India's strategy towards Pakistan during the Modi regime has been one of a virtual standoff, and the Kashmir issue is the primary reason why any Pakistani government is always unwilling to make the first move without an unambiguous commitment from India."
The News International asserts that India and Pakistan must "give peace a chance" and that "South Asia cannot advance unless India and Pakistan advance first."
"PM Shehbaz's conditional offer to negotiate is rather significant. "However, everything hinges on India's response," states the publication.
"South Asia, a region that has already witnessed enough bloodshed to last a lifetime, cannot advance until Pakistan and India advance first. If the two nations can find a consensus on important issues and move forward with trade and visa liberalisation, the entire region will gain. For this to occur, the first step must be an end to the Indian state's occupation of Kashmir," the report states.