India
"Impose President's Rule in Manipur; the Chief Minister must resign": Mallikarjun Kharge amid indignation over a video depicting sexual violence.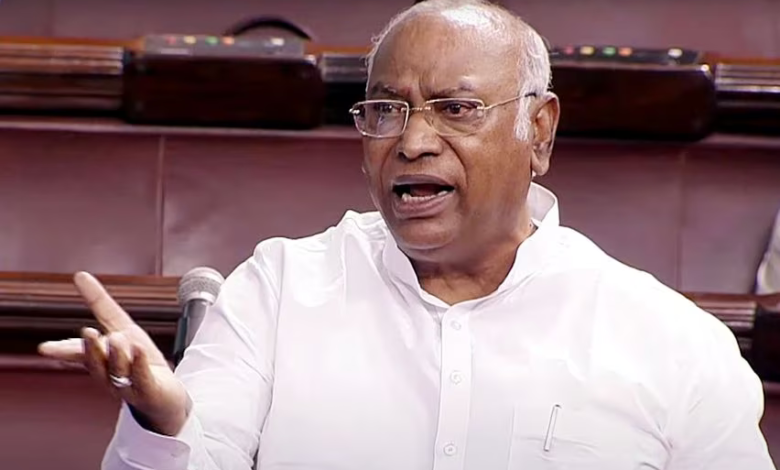 With the Manipur sexual violence incident dominating proceedings on the first day of the Monsoon session of Parliament, Congress chief and Leader of the Opposition in the Rajya Sabha Mallikarjun Kharge on Thursday demanded the imposition of President's Rule in BJP-ruled Manipur, which has been riven by ethnic conflict since early May.
Following a meeting of Opposition party leaders in Kharge's chamber, the united Opposition demanded a statement from Prime Minister Narendra Modi in both chambers of Parliament.
"Manipur is ablaze. Women are being assaulted and exposed in public. However, the Prime Minister remains silent. Outside, he is making a statement. Kharge stated in the Rajya Sabha, "We want a detailed discussion on Manipur, and PM Modi should make an elaborate statement on the subject."
"We also demand the immediate resignation of the Manipur chief minister and the imposition of President's Rule," stated the Congress leader.
Kharge and a number of other Opposition members have given notices to both Houses of Parliament, suspending other business in order to discuss the situation in Manipur.
The Union Minister of Parliamentary Affairs, Pralhad Joshi, told the Lok Sabha, "We have made it plain that we are willing to discuss Manipur in both Houses. Manipur is a delicate subject. The Home Minister will respond in detail to the discussion. Let the Speaker determine the discussion date."
Both Houses were adjourned for the day following a commotion over a request to discuss Manipur.
Earlier in the day, PM Modi condemned the violent incident in Manipur, expressing his grief and anger over the "shameful" occurrence.
"Today, when I am among you and standing close to this temple of democracy, my heart is filled with anguish and rage. "The incident that has come to light in Manipur is a disgrace for any civilised society," the prime minister said outside of Parliament prior to the beginning of the Monsoon Session.
On Wednesday, a video of two Kuki-Zomi women being paraded nude and sexually assaulted by a mob of men in Manipur appeared online. A senior police officer verified that the incident took place on May 4 in the district of Thoubal. One individual has been arrested thus far.
Related Posts