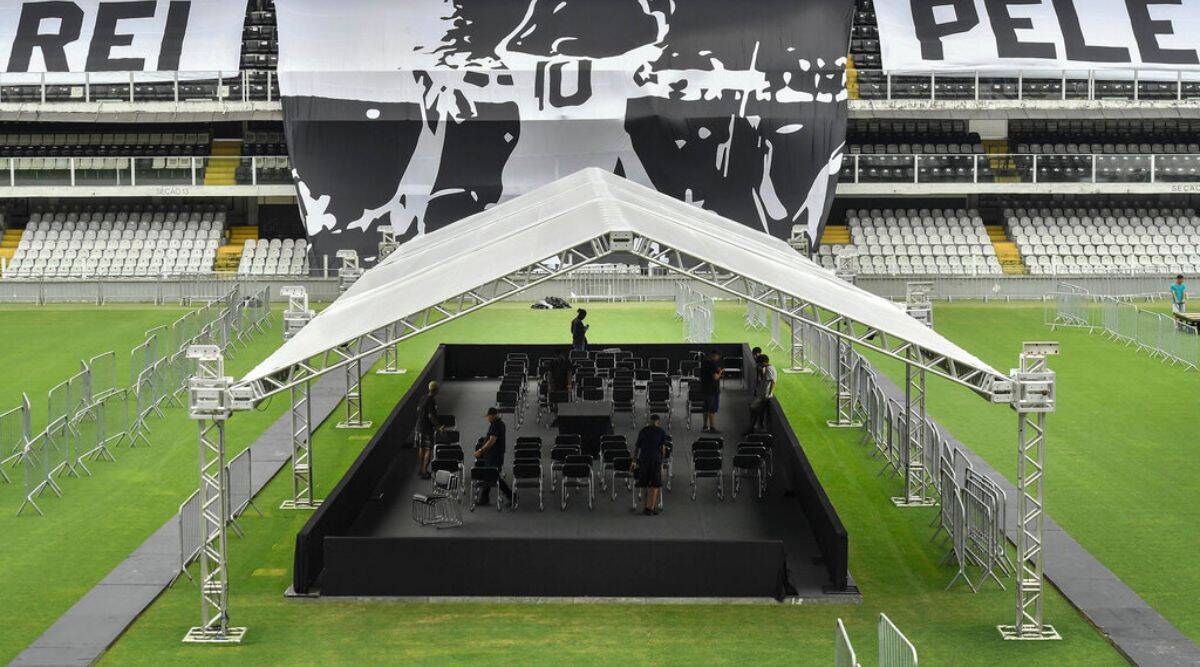 Pelé. Santos, Brazil.
Over the course of decades, thousands of letters, postcards, and packages were sent to the legendary athlete without his address or full name.
They almost always reached Edson Arantes do Nascimento's office in the harbour city he made renowned.
The Portuguese founded Santos in January 1546. It is home to the largest port in Latin America, which supplies Sao Paulo and ships its agricultural products worldwide.
Santos, a city with approximately 430,000 population now, became a household name only after a 15-year-old wonder began scoring goals for the city's club. The renowned Brazilian, who died on Thursday at the age of 82 after a battle with cancer, played there from 1956 until 1974.
"There was a Santos before Pelé and there will be a Santos after him," remarked Serginho Chulapa, Brazil's scorer in the 1982 World Cup and a local icon who scored more than 100 goals for the club. He placed the city and the club on the map. Before him, people came to the port to work and to the beach to relax."
Chulapa played for Santos FC four times throughout the 1980s. Since his retirement, he has served in various capacities at the club, sometimes alongside Pelé.
"Because Santos is not a major city like Sao Paulo, we must work with less money. And Pelé has made this club enormous ever since he began playing," Chulapa stated. "He was the company's zenith,"
Pelé won two Copa Libertadores wins and two Intercontinental Cup titles for Santos against Benfica and AC Milan, two of the world's top opponents. The legendary Brazilian won 26 titles for the club.
The coastal city has been home to a number of prominent Brazilian politicians, including President Luiz Inácio Lula da Silva. However, one of Santos' most popular tourist destinations is the Pelé Museum. It is located in the rebuilt Casaroes do Valongo neighbourhood, near to the city harbour. It debuted in 2014 and attracts tens of thousands of visitors annually. Many are like Gisela Claudia, 65, who arrived in the city on a cruise ship to celebrate New Year's Eve.
"This is my initial visit to Santos. "I'm only on this trip because my spouse wanted to visit Pelé," Claudia explained.
She stated, "He is lost someplace in the museum." "There are more lovely beaches on this tour than this one." However, none of them have the same legacy as the best player."
The museum showcases a selection of Pelé's remaining artefacts, including boots, trophies, and jerseys.
Santos has become a favourite destination for New Year's Eve, especially among Sao Paulo locals who have grown fond of its clubs, beaches, and party-filled private islands. The local club's stadium Vila Belmiro, where Pelé's funeral will be held on Monday, is one of the city's most popular tourist destinations.
Between 2009 and 2013, the last time Santos reliably filled its 16,000-seat arena was when striker Neymar played there.
Long after Pelé's retirement, the majority of Santos FC's illustrious players emerged from the club's academy. The roster includes Rodrygo, Elano, Zé Roberto, Giovanni, Robinho, Diego and Gabriel Barbosa.
It is predicted that Pelé's death would result in numerous name changes around Santos. The first is anticipated to be the port, which will be called King Pelé Port, as determined by the incoming administration.
During the final years of his life, Maria Tereza Myre Dores, one of Pelé's closest friends and his neighbour in the neighbouring city of Guaruja, asserts that Santos the club and Santos the city will never be the same.
"His name was Santos. He cherished the city and the club. And he made both better and bigger," Myre Dores stated.
"I will never forget the hours he spent in his office signing letters and t-shirts for people from all walks of life. Sending them back one by one, including some with simply three words: Pelé, Santos, Brazil, the architect remarked. Without him, Santos is diminished.