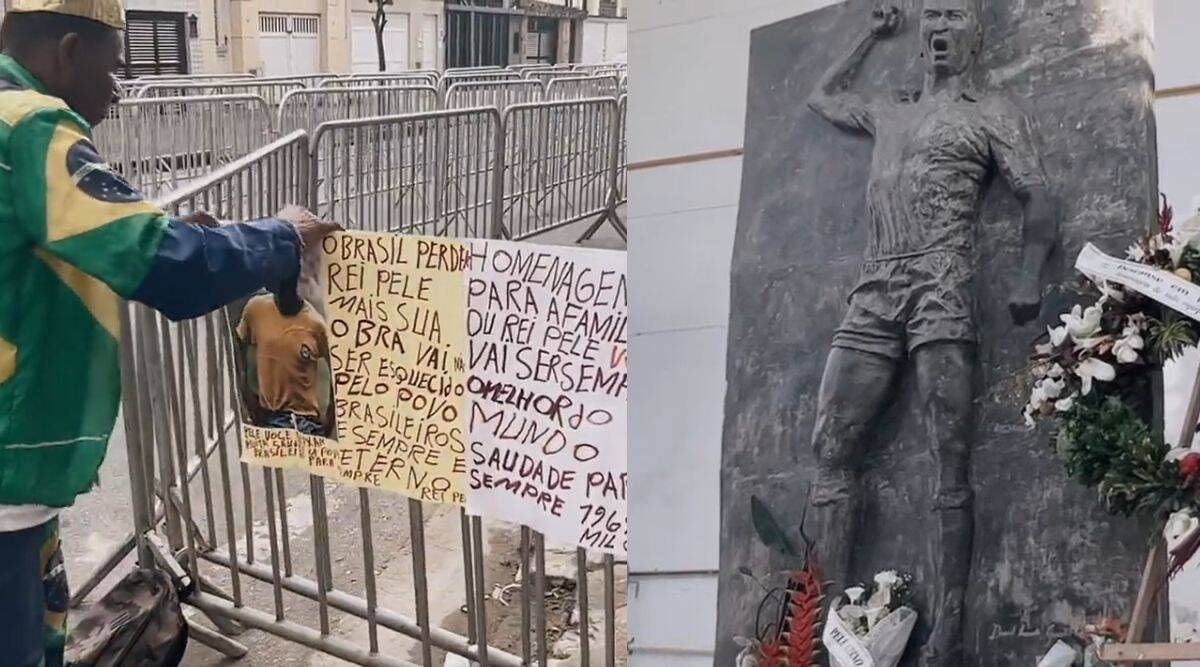 This week, Brazilians will say their final goodbyes to football legend Pele, beginning on Monday with a 24-hour wake at the stadium of his long-time team, Santos.
The oceanfront home of the squad dubbed "Peixe" — "fish" in Portuguese — is anticipating a massive inflow of football fans seeking to pay tribute to the "King" of the sport, who died on Thursday at the age of 82 after a long battle with cancer.
Pelé's wake begins at 10 a.m., but fans have already begun to assemble at the entrance of the Vila Belmiro stadium in Santos to pay their respects.
Saulo Duarte Soares, aged 36, travelled by bus to Santos. Arriving on Saturday, he spent New Year's Eve on the beach and camped in front of Vila Belmiro, where he plans to remain until the gates open.
Fãs de Pelé, primeiros na fila para o velório viajaram para se despedir do jogador.

Três admiradores do Rei do Futebol já estavam na frente da Vila Belmiro na tarde deste domingo (1º).

🎥: @SamPancher pic.twitter.com/Kb3UKcAeP7

— Metrópoles (@Metropoles) January 1, 2023
The second person to arrive is 58-year-old Emlio Carmo de Lima, who was ecstatic the one and only time he seen Pelé play live. Once, towards the end of his career, I witnessed Pelé, Santos, and Palmeiras at Parque Antártico. 1 to 1. His and Ademir da Guia's goal".
Some twenty hours before the wake began this Sunday afternoon, the So Paulo-based painter entered the line. "I'm going to spend the night here; I brought bread and mortadella. I received this stool from a neighbour. So I'll remain in place. I simply do not know when I will depart."
Antônio da Paz, 69, camped out for three days in front of the Albert Einstein Medical Center, where Pelé died on Thursday afternoon. Immediately afterwards, Seu Antônio came in Santos.
"Pelé handled the ball. It appeared as though the ball was chasing Pelé. When he scored his thousandth goal at Maracan, I will never forget it. It was broadcast on the radio. Therefore, it is worthwhile for us to be here," he told the journalists.
In addition to the king's followers, many foreign tourists and journalists visit the area surrounding Vila Belmiro on Sunday night. Santos Futebol Clube said over 8,000 journalists were accredited to cover the funeral.
The event will take place today at his former club's stadium, Santos. The parade will next make its way through the city streets to the Ecumenical Necropolis Memorial, where the king will be interred.