India
Watch for China, India, and the US to get closer in areas like defence, AI, quantum computing, and space.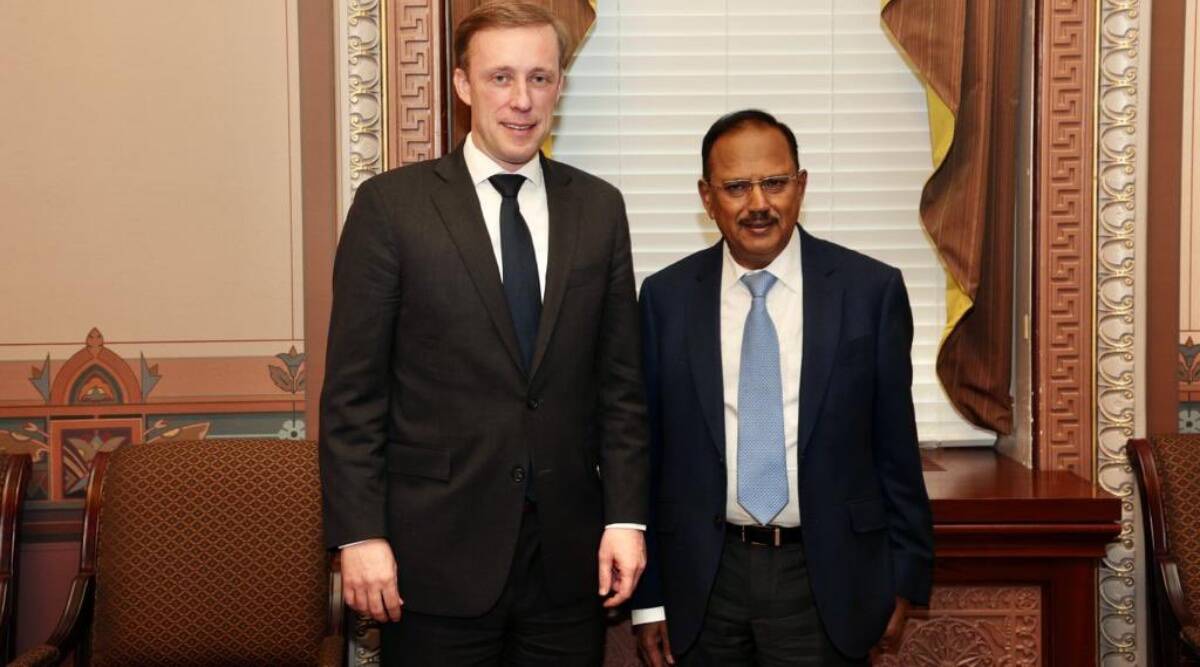 India and the US have decided to work together more on defence, artificial intelligence, quantum technologies, high-performance computing, co-production of jet engines, semiconductor supply chains, human spaceflight, commercial space launches, and telecom technologies like 6G. This is seen as the new frontier for cooperation with an eye on China.
These are the most important things that came out of the two-day meeting between Ajit Doval, the National Security Advisor, and Jake Sullivan, the US NSA. The meeting took place in Washington, DC. The first meeting of the US-India initiative on Critical and Emerging Technology (iCET) was held between the two NSAs. The initiative was decided by Prime Minister Narendra Modi and US President Joe Biden in May 2022 at the Quad meeting in Tokyo.
The list of new initiatives are the following:
📌A new bilateral Defense Industrial Cooperation Roadmap will speed up the development and production of jet engines and other technologies related to weapons.
📌 General Electric has asked the US to work with them on making jet engines that could power jet aircraft made and flown by India. "The US promised to quickly review M/s. General Electric's application for a licence to make jet engines in India for the Light Combat Aircraft made in India," the Indian statement said.
📌Long-term cooperation in research and development, with a focus on finding operational use cases for maritime security and intelligence surveillance reconnaissance.
📌A new "Innovation Bridge" that will link US defence startups with Indian ones.
📌Collaboration on high-performance computing (HPC), including working with the US Congress to make it easier for the US to send high-performance computing technology and source code to India.
📌A new Implementation Arrangement for a Research Agency Partnership between the National Science Foundation and Indian science agencies will increase international collaboration in many areas, such as artificial intelligence, quantum technologies, and advanced wireless technology.
📌 Joint Indo-US Quantum Coordination Mechanism with participation from industry, academia and government to facilitate research and industry collaboration.
📌Collaboration on building reliable supply chains for semiconductors and helping India build an ecosystem for designing, making, and assembling semiconductors.
📌The US Semiconductor Industry Association set up a task force with the India Electronics Semiconductor Association and the Government of India Semiconductor Mission to make a "readiness assessment" to find opportunities for the industry in the near future and help with the strategic development of complementary semiconductor ecosystems in the longer term.
📌Cooperation on sending people into space, including setting up exchanges that will give Indian Space Research Organisation (ISRO) or Department of Space astronauts advanced training at NASA Johnson Space Center.
📌By adding space science, earth science, and human spaceflight to the Professional Engineer and Scientist Exchange Program (PESEP), new talent exchanges will be made possible in the STEM fields.
📌Strengthen the commercial space partnership. One way to do this is through a new initiative led by the US Department of Commerce and the Indian Department of Space under the US-India Civil Space Joint Working Group. This initiative will make it easier for the US and Indian commercial space sectors to work together, grow, and form partnerships.
📌Increasing cooperation on research and development for 5G and 6G, making it easier to set up and use Open RAN in India, and promoting economies of scale in the sector around the world.
📌Starting a conversation between the public and private sectors about telecommunications and rules.
📌The Association of American Universities and top Indian educational institutions, like the Indian Institutes of Technology, have formed a new task force that will make suggestions for research and university partnerships.
In a statement from the White House, it said, "The United States and India agree that our shared democratic values and respect for human rights should shape how technology is designed, developed, governed, and used." We are committed to building an open, accessible, and safe technology ecosystem based on mutual trust and confidence, which will strengthen our democratic values and democratic institutions.
It also said that both countries were looking forward to the next iCET meeting, which would take place in New Delhi in 2023. Before the next meeting, the National Security Councils of both countries will work with their respective ministries, departments, and agencies to improve cooperation and work with other groups to reach ambitious goals.
Doval also met with Chairman of the Joint Chiefs of Staff General Mark Milley, Acting Secretary of Defense Kathleen Hicks, key senators, and business leaders, in addition to NSA Sullivan. During the trip, he will also meet with US Secretary of State Antony Blinken.
NSA was joined at the meetings by the Indian ambassador, Taranjit Singh Sandhu, the principal scientific advisor, Ajay Sood, the scientific advisor to the defence minister, G Satheesh Reddy, ISRO chairman S Somanath, telecom secretary K Rajaraman, and NSCS officials.