India
Aero India, to be held in Bengaluru beginning February 13, receives 731 exhibitor registrations; Rajnath examines preparations.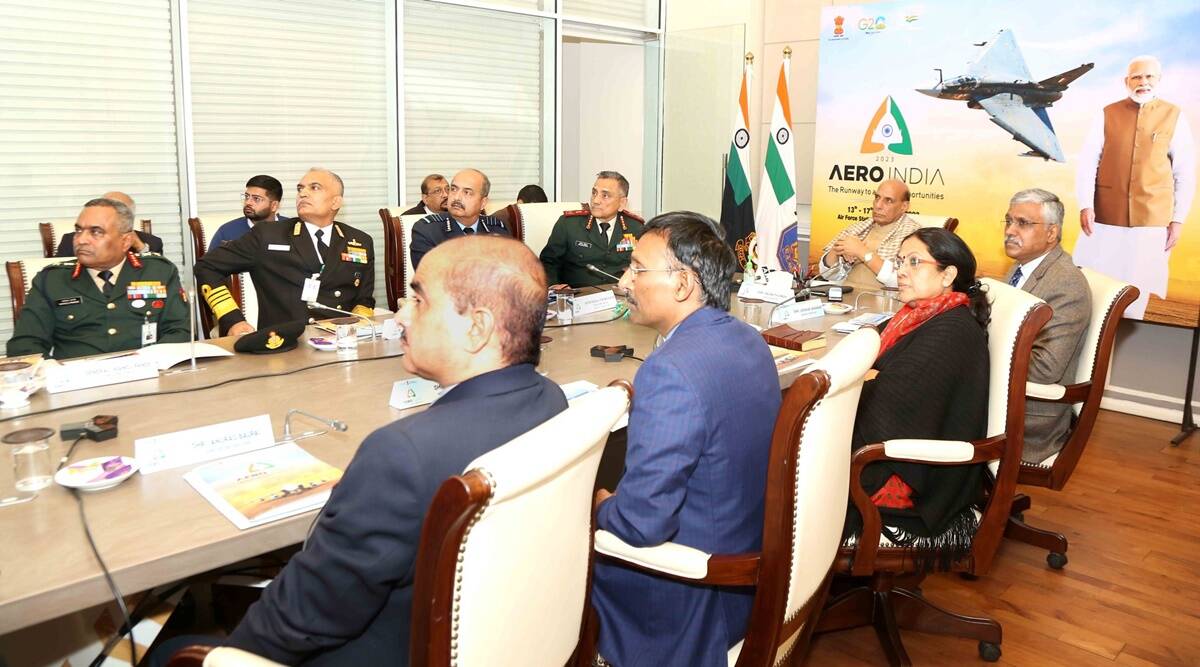 The Defence Ministry announced on Tuesday that 731 exhibitors have registered for the 14th edition of Aero India-2023, the premier global aviation trade exhibition to be held in Bengaluru from February 13 to 17, 2023.
The Air Force Station in Yelahanka will host a five-day event with the subject "The runway to a billion opportunities," during which several agreements will be inked at the 'Manthan' start-up and 'Bandhan' programmes.
Notable events will include a Defense Ministers' Conclave with the subject "shared prosperity through improved involvement in defence (SPEED)" and a CEOs' roundtable.
The defence ministry said in a statement that the events have been redesigned to emphasise on defence exports and forming partnerships rather than the import of weapons/equipment.
At the Tuesday meeting of the highest committee, Defence Minister Rajnath Singh reviewed the event's preparations.
The minister urged all involved parties to make foolproof preparations for the event.
Raksha Mantri Shri @rajnathsingh reviewed the preparations of forthcoming Aero India during apex committee meeting held in New Delhi today. 14th edition of the show will be held in Bengaluru between February 13-17, 2023.
Read more here: https://t.co/BOabQFwlQk@giridhararamane pic.twitter.com/78F5xFII8Q

— A. Bharat Bhushan Babu (@SpokespersonMoD) January 24, 2023
"Aero India 2023 will be more than just an event; it will be a showcase of the expanding capability of the defence and aerospace sector and the emergence of a strong and independent 'New India,'" the defence minister said in a statement.
He stated that the Indian defence industry was undergoing a period of revolution and that the active participation of the private sector was the most significant factor in this development.
"Not just the corporate sector, but also R&D institutions and academic institutions collaborate with the government. Aero India is a platform for all stakeholders to strengthen the defence and aerospace industry and contribute to nation-building, he added.
बेंगलूरू में हमने Aero India-2021 को, दुनिया के पहले hybrid Aero Show के रूप में सुरक्षित और सफलतापूर्वक आयोजित किया था। इसमें कर्नाटक राज्य की निश्चित ही बड़ी महत्त्वपूर्ण भूमिका थी और इसके लिए मैं राज्य सरकार की सराहना करता हूँ: श्री @rajnathsingh

— रक्षा मंत्री कार्यालय/ RMO India (@DefenceMinIndia) January 24, 2023
Rajnath stated that although Aero India is a business event, it also seeks to develop India's relations with other nations. He also emphasised the significance of these events for the business ecosystems of the states in which they are held.
The event is transforming Karnataka into a hub for the aviation and aerospace industries, he said, adding that the state is one of the top contributors to the nation's economic growth.
"The state is renowned for its competent workforce and rich ecosystem for defence manufacture. "It is the favoured location for manufacturing and R&D activity by domestic and multinational aviation and defence industries," the defence minister stated.