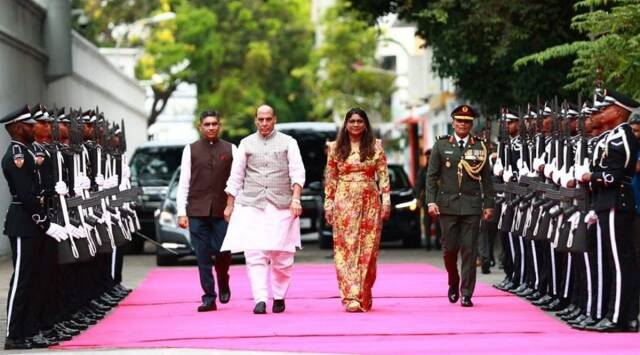 According to a Defence Ministry statement, Rajnath Singh held bilateral delegation-level talks with his Maldivian counterpart Mariya Ahmed Didi on Monday, during which issues of mutual defence cooperation and new initiatives to strengthen the two countries' defence and security partnership were discussed.
On Tuesday, Singh, who is on a three-day official visit to the Maldives, will meet with Maldives President Ibrahim Mohamed Solih. He also plans to tour ongoing project sites and meet with members of the Indian diaspora.
In a formal ceremony on Tuesday, India will also hand over a fast patrol vessel and an assault landing craft to the Maldivian Coast Guard.
A year after delivering a patrol vessel to the Maldives, India presented the country with a Dornier aircraft in 2020. India also provided the Maldives with a coastal radar system last year.
Prime Minister Narendra Modi stated last year that India will provide the Maldives with 24 vehicles and a navy vessel, as well as police facilities on 61 of the country's islands.
According to the Defence Ministry's announcement on Monday, Singh also met with Maldievs Foreign Minister Abdulla Shahid. The ongoing bilateral defence and infrastructure development collaboration between India and the Maldives was discussed.
According to the statement, Maldives Defence Minister Didi violated protocol and personally greeted Singh upon his arrival at the airport as a unique gesture expressing the closeness in bilateral relations.
The Maldives is one of India's key maritime neighbours in the Indian Ocean region, and India has been attempting to strengthen ties with the island nation, notably in areas of military and security, as China seeks to expand its influence in the region.
Both countries are collaborating to address issues such as maritime security, terrorism, radicalisation, piracy, trafficking, organised crime, and natural disasters.
In August of last year, Prime Minister Modi and Soli launched the Greater Male Connectivity Project, a $500 million Indian-funded project that would include a 6.74 kilometre bridge and a causeway linking the capital Male to the nearby islands.
Both parties had also signed a cyber security agreement aimed at strengthening ties in the Indian Ocean region to combat transnational crime and terrorism.