India
Adani Group acquires Haifa port for $1.2 bn, Israeli PM Netanyahu lauds deal as 'enormous milestone'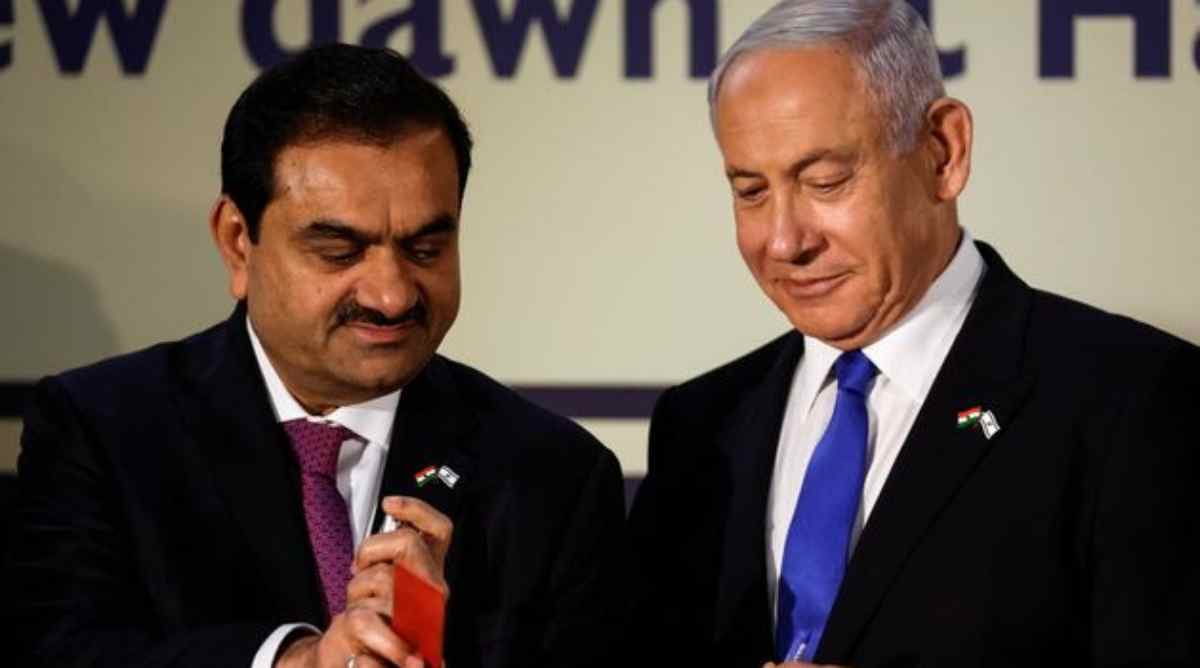 The Adani Group bought the important Israeli port of Haifa on Tuesday for USD 1.2 billion. They said they would change the skyline of this Mediterranean city as part of their plan to invest more in the Jewish nation, which includes opening an AI lab in Tel Aviv.
Adani Group chairman Gautam Adani, whose business empire was shaken by fraud claims made by US short seller Hindenburg Research, signed the deal to take over Haifa Port with Israeli Prime Minister Benjamin Netanyahu and talked about investment opportunities.
Prime Minister Netanyahu called the deal between the Adani Group and the Haifa port a "enormous milestone" and said it will help connect the two countries in many ways.
The Port of Haifa is the largest port in Israel for shipping cruise ships and the second largest for shipping containers.
"I think this is a huge step forward…
During World War I, more than 100 years ago, brave Indian soldiers helped free the city of Haifa. Netanyahu said, "Today, strong Indian investors are helping to free the port of Haifa."
The Prime Minister said that he and his "good friend" Narendra Modi, who is the Prime Minister of India, talked about the idea of "connecting our countries in many ways, through transportation lines, air routes, and sea routes… and it's happening now." He said that what is happening now is important for history because "what we see there is a huge step towards peace." Netanyahu said that the area will become a point of entry and exit for a lot of goods that go directly to the Mediterranean and Europe without going around the Arabian peninsula or through three choke points.
"This is a clear sign of confidence in the Israeli economy," he said, adding that privatising the ports and bringing in new investors makes Israel's economy stronger, lowers the cost of living, opens up new import and export opportunities, and makes ties between India and Israel stronger.
Adani said that his company will also build homes near the port to change the skyline of Haifa.
The 60-year-old Indian businessman didn't say anything about the Hindenburg scandal, which has already caused his group's stocks to lose over USD 70 billion in value.
In his speech, he said, "We have started more than a dozen technology partnerships, and we have offered the whole Adani portfolio of companies as a giant sandbox for us to learn together." "We are also in the process of putting together an AI lab in Tel Aviv that will work closely with our new AI labs in India and the US." After his meeting with Netanyahu, he wrote about it on Twitter.
"Honored to meet with @IsraeliPM @netanyahu on this historic day as the Port of Haifa is given to the Adani Group. The Abraham Accord will change the way things are done in the Mediterranean Sea. "Adani Gadot is going to make Haifa Port a place that everyone will want to see," Adani said in a tweet.
Under the Abraham Accords, a set of agreements brokered by the US, the UAE and Israel established diplomatic relations in 2020. After that, Bahrain and Morocco did the same.
The agreements, which were led by then-US President Donald Trump, went against what had been thought for a long time, which was that the Arab world and Israel couldn't have any kind of relationship as long as the Palestinian question hadn't been solved.
In the last six years, Adani group has made many important deals with companies like Elbit Systems, Israel Weapon Systems, and Israel Innovation Authority.
In July of last year, Adani Ports & Special Economic Zone Ltd and Gadot, a local chemicals and logistics company, won an Israel government bid to buy the Haifa Port, which is a major trade hub on Israel's Mediterranean coast, for about USD 1.2 billion.
Adani's company has no holdings in the West, so its move into Israel is a sign of more shipping between Asia and Europe and of the need for a hub in the Mediterranean by the major Asian players.
"The purchase of the Haifa port also comes with a large amount of land. The group's founder and leader, Adani, said, "I promise you that in the years to come, we will change the skyline around us."
"The Haifa you see today will be very different from the Haifa of tomorrow. With your help, we will keep this promise and do what we can to change this city."
He said he was sure he could change everything about the port. "We know there will be competition from others, but we are confident because we believe in the people of Israel and, because of that, we believe in the Israel Growth story." He said, "Our goal is to make the right investments that will make not just the Adani Gadot partnership proud, but all of Israel proud."
He said that the Israeli spirit is what makes all the difference. He also said that his group wants to work together with local colleges like the University of Haifa to take advantage of the city's deep technology expertise.
Adani said that the friendship between India and Israel goes back to September 23, 1918, when soldiers from Mysore, Hyderabad, and Jodhpur fought here for the freedom of Haifa.
"This morning, I had the chance to go to the cemetery where our soldiers are buried. "It was a moving moment for me to think about how the port we now share is in the same city where soldiers from both of our countries fought together for the ultimate cause we all call Freedom," he said.
He then said that Israel has always been a source of inspiration for him. "You have changed the rules about what a country with less than 10 million people can do. You have changed the rules by showing what can be done in a country with few natural resources. And you've changed the rules by showing what a country that believes in itself can do." Israel is the most resilient country in the world because of how flexible it is. "I'm amazed by how fast you come up with new ideas in different areas. I'm curious about what we can learn from your desire to try new things. "You have been focusing on sustainable growth long before the rest of the world did," he said.