India
India and Egypt enhance ties to strategic cooperation and cite terrorism as humanity's greatest security threat.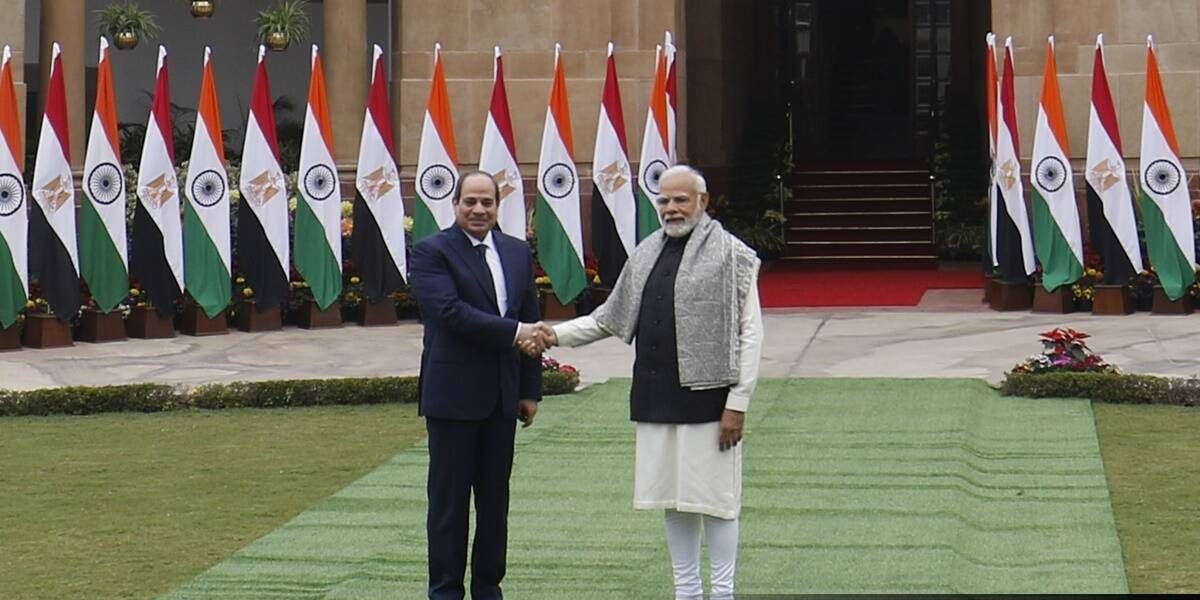 Prime Minister Narendra Modi stated on Wednesday, with Egypt's President Abdel Fattah El-Sisi by his side, that India and Egypt are "worried about the global expansion of terrorism" and agree that terrorism is the "most significant security danger" to humanity.
He added that both nations concur that "coordinated action is required to prevent transnational terrorism" and that they will notify the international community jointly.
Sisi, who met with Modi, stated that they shared a "similar perspective" and that cooperation will aid in the eradication of violence because the rise of violence, terrorism, and extremist ideology poses a grave threat not only to the two countries, but to all nations throughout the globe.
Modi and Sisi, according to Foreign Secretary Vinay Kwatra, had a "warm and productive conversation", following which they resolved to elevate the bilateral collaboration to the level of a "strategic partnership".
Modi stated, "We have decided that under the India-Egypt strategic partnership, we will develop a long-term framework of greater cooperation in political, security, economic, and scientific fields." He emphasised that India and Egypt are on opposite sides of the Arabian Sea and that strategic cooperation between the two countries will promote peace and prosperity throughout the entire region.
Sisi stated, "Today's conversations revealed a strong desire to elevate relations between Egypt and India to the strategic level." During today's discussions with the prime minister, we agreed on the significance of convening the two nations' joint commission and establishing the operational procedures for their joint cooperation plans as soon as feasible.
Regarding the topic of terrorism, Modi stated, "India and Egypt are concerned about the global growth of terrorism. We are unified in the belief that terrorism is the most significant security danger to humanity. Both nations concur that concerted action is required to combat transnational terrorism. Consequently, we shall continue our efforts to notify the international community."
Sisi shared this opinion. We also discussed the most effective methods of combating terrorism and confronting extreme ideology. The spread of violence, terrorism, and extremist ideology poses a grave threat not only to our two countries, but to every country in the world," he added. "We have a shared viewpoint in this regard, namely that collaborative collaboration will help reduce violence."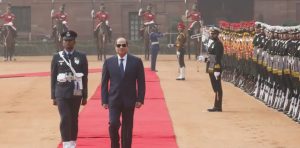 "We agreed on the significance of expanding cooperation in the realm of security and fostering greater coordination in this key area, as progress is unimaginable without security and stability," he continued.
Foreign Secretary Kwatra stated that as a result of the two leaders' decision to elevate the relationship to a strategic partnership, there will be four main components: political, defence, and security; economic engagement; scientific and academic collaboration; and cultural and interpersonal contacts.
Regarding security and defence cooperation, Modi stated, "There is also enormous potential for improving our security and defence cooperation. There has been a tremendous growth in combined exercise training and capacity building between our militaries in recent years. We have also determined at today's summit to boost collaboration between our defence sectors and to increase the exchange of counterterrorism-related information and intelligence."
"The misuse of cyberspace for the propagation of extremist ideology and radicalization is an increasing threat. We will extend collaboration in this regard as well, he said.
Sisi, the former army chief and current president of Egypt, stated, "Defense cooperation was on the agenda for today's talks. Strengthening cooperation in this area is the best indication of our shared desire to establish a strategic partnership between the two nations. We reaffirmed our desire to maintain coordination, joint exercises, and the exchange of experiences, as well as to explore further possibilities to develop tighter cooperation, including co-manufacturing, in this field."
Foreign Secretary Kwatra stated that the two leaders had "similar goals and priorities."
Discussions on economic participation was one of the primary themes of discussion. Modi stated, "Today, we have had in-depth conversations on bolstering the food and pharmaceutical supply chains impacted by the Covid and Ukraine conflicts. We also concurred on the importance of increasing mutual investment and commerce in these regions. Together, we have resolved that our bilateral trade will reach 12 billion dollars in the next five years."
Sisi stated, "During our discussions, we examined the current state of the economic and investment links between the two countries. We reaffirmed our desire to continue working toward expanding trade and maximising the reciprocal benefits of our nations' production and exporting capacities and competitive advantages in order to meet the economic and social needs of the Egyptian and Indian peoples."
The Egyptian president stated that he briefed Prime Minister Modi on Egypt's business potential, incentives, and benefits, as well as the government's efforts to encourage international investment.
"I confirmed that we anticipate an increase in Indian investments in Egypt in a variety of fields in the Suez Canal Economic Zone, especially after noting the intention of Indian companies operating in Egypt to expand their presence and the desire of Indian companies specialising in promising fields to invest in Egypt," Sisi said.
In addition, he stated, "Our visions were aligned with regard to the significance of strengthening the continuing cooperation in numerous domains and moving toward partnerships in new areas, including cooperation in new and renewable energy, especially the creation of green hydrogen.
"We also committed to expand our strategic cooperation in a variety of fields, including agricultural; higher education; the chemical, fertiliser, and pharmaceutical industries; and information technology, communications, and cyber security.
"I have also emphasised to the prime minister the need to establish regular channels for the exchange of expertise and knowledge regarding successful experiments and initiatives in the two countries, particularly in developing local industries and small and medium-sized enterprises, providing a decent life for the citizens, and promoting living standards."
The two presidents also mentioned the ties between civilizations. Modi remarked, "India and Egypt are among the oldest civilizations in the world. We have maintained a bond for many aeons. Before four thousand years ago, trade with Egypt was conducted through the Gujarati port of Lothal. And despite many changes in the world, our relationships have remained steady, and our cooperation has been steadily deepened."
Sisi asked for increased Indian tourism. "It is common knowledge that Egypt and India have a civilizational character rooted profoundly in human history. Therefore, we concurred on the need to develop ties and commitments at the cultural level through the participation of both nations in cultural events. We also agreed on the significance of boosting connections between the peoples in order to promote the free flow of tourists between the two nations by increasing flights between Egypt and India, particularly between Cairo and New Delhi. I repeated to the prime minister that we completely welcome more Indian tourists in Egypt."
Five cooperation agreements were signed between the two parties in the fields of culture, information technology, cyber security, youth issues, and broadcasting.
Sisi, who arrived in New Delhi on Tuesday and was greeted by Minister of State (External Affairs) Rajkumar Ranjan Singh, will be the first Egyptian president to serve as chief guest at Republic Day festivities.
From the Indian government's standpoint, an invitation to be the primary guest on Republic Day is very symbolic. New Delhi has been constructing a strategy of hospitality to determine its Republic Day chief guest. The selection of the primary guest each year is determined by a number of factors, including strategic and diplomatic considerations, corporate interests, and worldwide geopolitics.
President Sisi was greeted with a formal ceremony at the Rashtrapati Bhavan on Wednesday morning, and President Droupadi Murmu will hold a state banquet in his honour in the evening.