India
Rahul accuses RSS-BJP of fostering enmity and refers to Chief Minister Sukhu as a zameeni aadmi.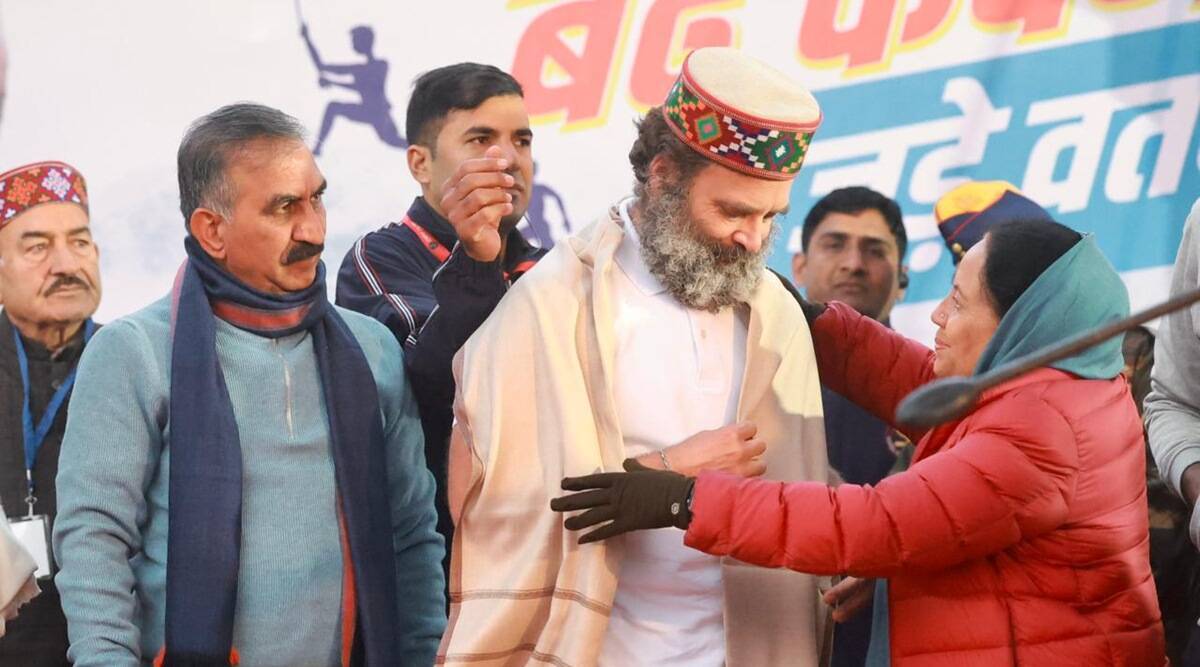 Congress leader Rahul Gandhi accused the RSS and the BJP on Wednesday of fostering hatred, inciting violence, and assaulting constitutional institutions as his Bharat Jodo Yatra passed through Himachal Pradesh, which was not on his original path.
Gandhi told a crowd at Manser village in Kangra, where the yatra entered the state on Wednesday morning that he was "not permitted" to raise issues of public interest in Parliament, including demonetisation, "faulty implementation" of the GST, "anti-farm laws," and the Agniveer military recruitment scheme. Therefore, he used the road to attract attention to them.
As he walked approximately 18 km on the first day of his yatra in Himachal Pradesh, he was also effusive in his praise for Himachal Pradesh chief minister Sukhvinder Singh Sukhu, whom he referred to as "zameeni aadmi," and the state's residents, whom he compared to mountains that are "strong but calm."
Each state, according to Rahul, has its own unique identity. "Within hours of entering a condition, one becomes aware of its underlying structure as they move. I arrived in the morning and spoke with individuals. I explained to Sukhu ji that although Himachal Pradesh is a hilly area, walking is rather simple here. Did he inquire why? I assured him that Himachal Pradesh's citizens are peaceful. They rarely speak, but when they do, they do so with the highest love and respect."
Then, Rahul addressed the crowd, stating, "As you can see, your character is quite admirable." Your character resembles mountains in terms of strength. There is both strength and tranquilly." He lavished admiration on Sukhu and stated, "Your new prime minister is not arrogant. Today, I observed that if someone falls, he promptly offers assistance. He listens to the individuals. Aapka naya CM zameeni aadmi hai. Himachal Pradesh ke logon ke saath unka lagaav hai. Your new chief minister is an individual from the grassroots. He has affection for the Himachal Pradesh people. I believe he will perform well [as CM]."
In addition, he criticised the BJP for "promoting hatred, violence, and terror," as well as on the topics of inflation, unemployment, demonetization, GST, Agniveer, and the plight of farmers. He accused the BJP of seizing control of government institutions and stated that the only way to bring attention to these concerns was to hit the road.
Earlier in the morning, Rahul passed from Punjab into Himachal Pradesh and began his yatra from Ghatota in the Kangra district, where the flag handover ceremony took place.
He was welcomed by CM Sukhu and Pratibha Singh, among others. The morning portion of the yatra stopped between Kathgarh and Indora. After speaking at an evening gathering, Gandhi travelled to the Shah colony in Pathankot, where he delivered a speech on Thursday before entering Jammu and Kashmir.
After completing his day-long leg of the Bharat Jodo Yatra in the Kangra area of Himachal Pradesh, Rahul remarked, "Today, the Bharat Jodo Yatra travelled a small distance through Himachal Pradesh. I was eager to spend time in the state, despite the fact that we were only able to walk for a short distance. Thousands of people travelled from all over the state in the midst of a polar vortex to walk with us, support us, and bless us. I am indebted to the people of Himachal Pradesh for their outstanding response. I am also lucky to have obtained Lord Shiva's blessings at the old Kathgarh temple in the Devbhoomi."
"As I strolled among the people of Himachal Pradesh, I learned many things from them," he continued. The yatra delivers the same message as "Himachaliyat," which describes the state's peaceful, diversified, and welcoming culture. This loving attitude of 'Himachaliyat' is a cure not only for the cold but also for the current climate of hostility and division. People from many walks of life, including women, youth, civil servants, and veterans, participated in the yatra and shared their hopes and struggles. Recent incidents have also shown us the necessity of conserving the environment while addressing the needs of the people in an environmentally fragile state such as Himachal."
He continued, "I am grateful that the people of Himachal Pradesh voted for the Congress in the most recent election. The new government has already begun its work by reinstating the existing pension plan for government employees and formulating a plan to send Rs 1,500 to each home's female head of household. The road ahead will be difficult, especially because the previous BJP administration misled the people and emptied the coffers. I am certain that the new government will rise to the occasion and fulfil the hopes of all segments of society." Gandhi continued, "As the Yatra nears its conclusion, I will lovingly recall the brief time I spent in Himachal Pradesh and the love and compassion I was lucky enough to receive from its people. I anticipate returning soon."