India
CJI Chandrachud tells the High Court Chief Justices, "Technology is here to stay, for good."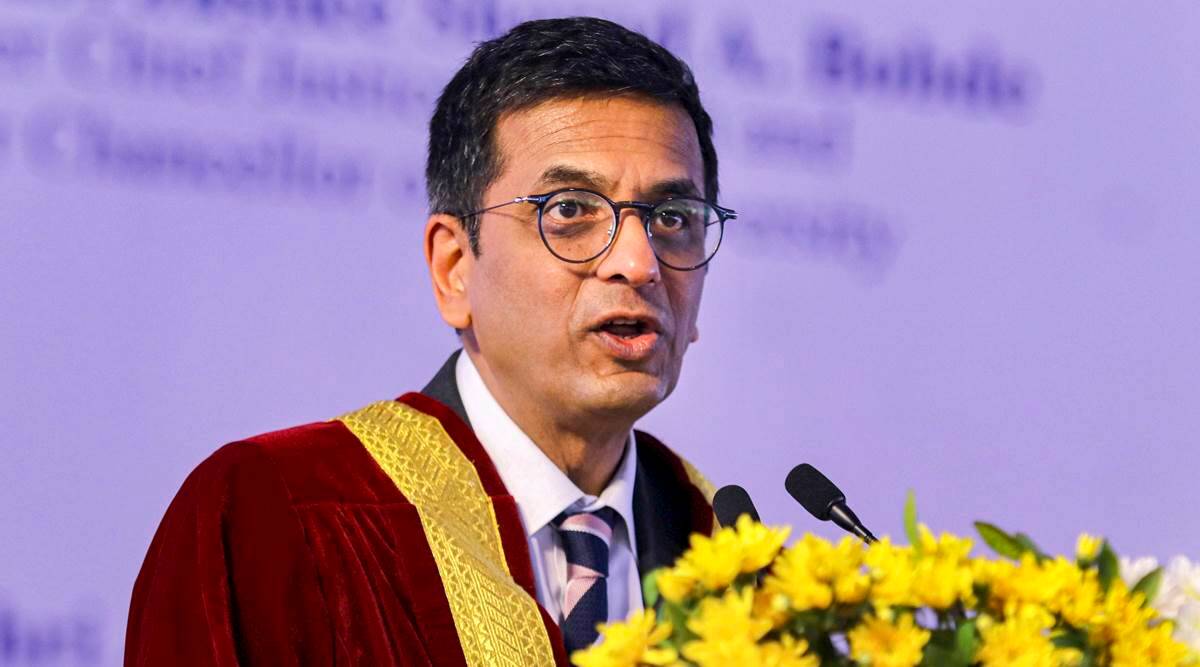 Some High Courts and tribunals are getting rid of virtual hearings, which the Supreme Court saw as a bad sign. On Monday, the Court reminded everyone that technology wasn't just made for the pandemic, but "is here to stay for the future, forever."
Chief Justice of India D. Y. Chandrachud, who was in charge of a three-judge bench, expressed his disappointment when hearing a petition that asked for a declaration that virtual hearings are a fundamental right. He said, "I think all Chief Justices of High Courts need to learn that they have to be on board. There's no way around it."
The infrastructure was built with money from the public, so the CJI said, "It doesn't matter if a Chief Justice likes technology or not; this is not how you handle public money." Since public money has already been spent, you need to make sure the infrastructure is there…"
The bench, which also had Justices P S Narasimha and J B Pardiwala, talked about how some judges insist that lawyers be there in person.
"The other point of view is that we judges show up in person, so why should lawyers show up online? "That misses the point. The judges come to work in very different conditions than the Bar does," said the CJI.
Bar Council of India Vice President Advocate S Prabakaran said that it is hard for people in rural areas to get access to technology.
"So, the answer isn't to ban technology," the CJI said in response. The answer is to give people at the bottom access to technology. Every taluka court in the country needs to have access to technology. Because of this, we are setting up e-seva kendras as part of phase 3 of the e-courts project… "Lawyers who don't have Internet access can go to the e-seva kendra and use all the services there."
He said that the e-committee and the Common Service Centres Corporation of the Government of India have signed a Memorandum of Understanding. "We have to try… The CJI said, "It doesn't matter if the Chief Justice of a particular High Court cares or not. You don't have to care, and you don't have to know anything about technology, but you have to spend public funds that the Government of India has given you to help the mission of access to justice."
CJI Chandrachud said, "Some tribunals just broke up as if technology only existed during the pandemic." He then said, "I'm sorry. The pandemic is not something that technology can help with. Technology will always be a part of our lives.
A senior lawyer said that there are some judges who don't like it when lawyers show up in court virtually.
Then, CJI Chandrachud said that the Parliamentary Committee had first come to the SC when Justice N V Ramana was the CJI. "It went over very well… I spoke in front of the committee for almost three hours. The committee had never been to the SC before. I went to the meeting with CJI Ramana. We talked in great detail. The committee's report on a request for more money for the courts was very strong. The judiciary has now been given Rs 7,000 crore. We won't use these funds for ourselves. Instead, we'll use them to help people on the ground. We will also say that the HC CJs need to look at it right now to move this mission forward."
A lawyer said that all of Madhya Pradesh's e-courts were opened on October 11, 2021, after a lot of money was spent. However, 13 days later, a new Standard Operating Procedure said that all of the virtual courts were closed.
In response, the CJI said, "The problem is when Chief Justices think that technology is helpful. Some Chief Justices disagree with this. I'll make sure everyone is following the rules. There's no longer any question about whether I like technology or not. Everyone has a cell phone, so you should too. In the same way, public money has been used to pay for this technological infrastructure. I think that all Chief Justices of High Courts need to learn that they have to be on board. There's no way around it. We are also very worried about lawyers all over the country, and we need to reach out to them.
The bench told BCI Chairman Senior Advocate Manan Kumar Mishra and Prabakaran to tell the court what it should do to make sure that every lawyer in the country gets these services at the first level.