India
I have returned home to share the suffering of others: Rahul Gandhi in J&K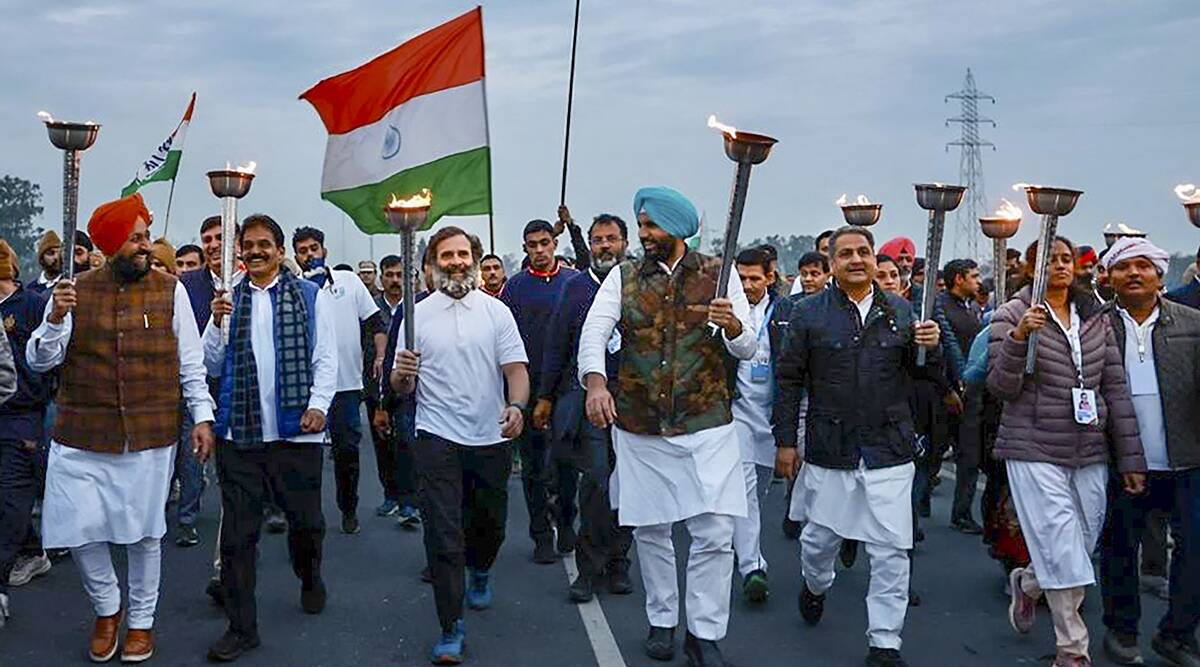 Thursday, as Congress leader Rahul Gandhi entered Jammu and Kashmir on the final stage of his Bharat Jodo Yatra, he invoked his connection to the region, stating that his ancestors had relocated from Kashmir to Uttar Pradesh and that he felt he was "returning home."
He stated that he had travelled to J&K to share the suffering of its citizens. "I am aware of the suffering endured by the people of Jammu and Kashmir. I understand it… Everyone has been injured, everyone has suffered, he said. A large gathering assembled to welcome him at the entry crossing to Jammu and Kashmir from Pathankot, Punjab.
"I am returning to the location from which my family emigrated to Uttar Pradesh. When one returns to his roots, he discovers numerous things about himself, his people, and his country.
"I have come your land with my head bowed, and I want you to know that regardless of your religion or caste, whether you are poor or wealthy, young or old, the country is yours, and you are a part of it," he stated.
The Congress leader stated that he is in J&K for the next nine days to learn from the locals and not to impart any information. In September, Rahul began walking from Kanyakumari to Srinagar, where he would end his journey on January 30.
आज, जम्मू-कश्मीर पहुंचने की बहुत खुशी है, क्योंकि अपने घर जा रहा हूं, जहां से मेरे पूर्वजों की जड़ें जुड़ी हैं।

और, सीखता समझता जा रहा हूं, खुद को, हर प्रदेश को, अपने देश को। pic.twitter.com/Q0RJaw005r

— Rahul Gandhi (@RahulGandhi) January 19, 2023
According to him, the main problems facing the country now are "hate, unemployment, rising costs, and the creation of two "Bharats" — one for billionaires and the other for the poor.
"The BJP, RSS, the country's top billionaires, and the media are working together to divert people's attention from the real concerns," he claimed, adding that "the media is only covering Hindu-Muslim and hatred topics."
The Congress lawmaker, accusing the BJP and the RSS of fostering hatred in the country, stated, "I previously believed (hatred) ran deep, but it does not and is primarily seen on television."
"When they (the media) set people of one faith or tongue against those of another, they are merely trying to deflect public attention," he added amid slogans reading "Nafrat chhodo Bharat Jodo" (leave hatred, unify India).
Indicating that the poor, farmers and small merchants are under attack, the Congress leader branded demonetization and the Goods and Services Tax (GST) as destructive instruments.
He stated that the government is "lying to its youth" by telling them they may become engineers, lawyers, join the military, or IAS officers. "The truth is that just 1 or 2 percent of India's billions of children will become engineers or doctors; the remainder will be unemployed or labourers," he stated.
Earlier in his remarks at the ceremony, the former chief minister and current president of the National Conference, Farooq Abdullah, drew a comparison between Rahul and Adi Guru Shankaracharya. "Many years ago, Shankaracharya had completed a yatra from Kanyakumari to Kashmir. "And you (Rahul) are doing it today," he said.
Without identifying anyone, Abdullah voiced alarm over the "propagation of politics of hatred and sectarian division" in the country, citing the fact that the Congress MP was marching to preserve national unity.
"This is not Mahatma Gandhi's (Gandhi) Bharat or Lord Ram's India," he stated, adding, "Before I close my eyes, I want to see my secular Hindustan where everyone is valued."
On the podium with Rahul were Rajasthan Chief Minister Ashok Gehlot, senior Congress politician Digvijaya Singh, Jairam Ramesh, Abdullah, and Muzaffar Shah of the Awami National Conference. In addition, senior J&K Congress leaders were present.