India
Lalu says Modi govt: 'Ukhaad ke phek denge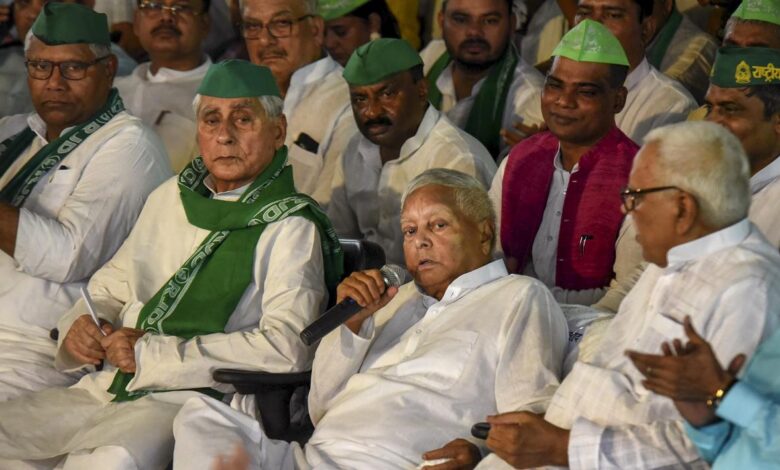 Days after the CBI filed chargesheets against RJD chief Lalu Prasad and his family members, the former Bihar chief minister warned Prime Minister Narendra Modi on Wednesday that the opposition would "uproot" his government if he were to lose power.
At the 26th Foundation Day celebrations of the Rashtriya Janata Dal, Lalu criticised the BJP for "filing cases against anyone at will" without referencing the CBI chargesheet in the land-for-jobs case.
"Jispar chahta hai case karwa deta, mukadma karwa deta hai. Jyada anyay aur zulm thik nahi hai, zulm karne wala jyada thahra nahi hai. Case karo, mukadma karo… jahiya tu na rahi to te tohar ka hoi… (They file lawsuits against anyone they choose. Excessive injustice and torture are undesirable, and such perpetrators do not last long in power. What will you do when you are no longer in power?)"
The leader of the RJD instructed party members to prepare for elections. "Leaders of 17 parties assembled at the residence of Nitish Kumar [leaders of 15 parties met]. We are soon convening in Bengaluru. Ukhaad ke phenk denge (we will overthrow your government), Narendra Modi, declared Lalu to party members' applause.
The RJD leader also recalled how his party was founded in 1997 under difficult circumstances when he was facing legal proceedings. "However, we overcame the obstacles, and RJD grew from strength to strength… We must stand united when attempts have been made to disrupt communal harmony and fracture society. BR Ambedkar has also attempted to tamper with the Constitution, according to Lalu.
In addition to other prominent leaders, the RJD state president Jagdanand Singh and the party's national vice president Shivanand Tiwari attended the party's Foundation Day celebration.
Related Posts