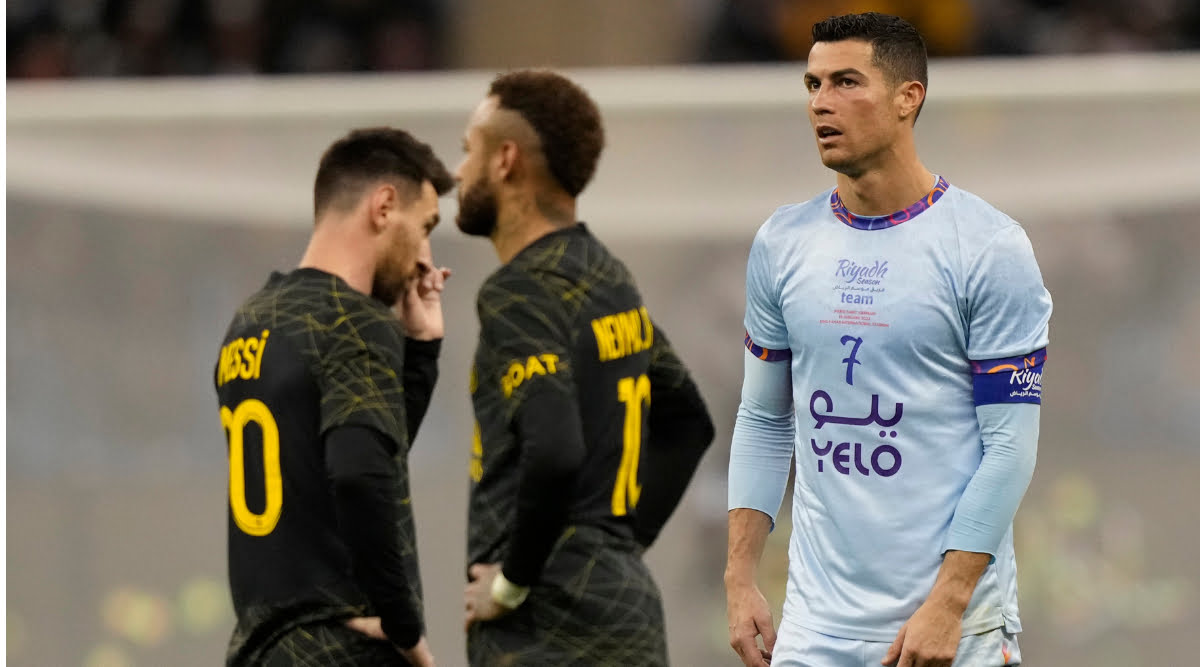 Cristiano Ronaldo, wincing in pain from a cheekbone injury, steadied himself before converting a penalty kick for his first goal in Saudi Arabia against a Paris Saint-Germain club featuring his old rival Lionel Messi.
PSG goalkeeper Keylor Navas knocked out Ronaldo in a boxing-style knockout after 30 minutes of Thursday's exhibition match in Riyadh, the city that garnered sporting renown in 2019 for hosting the world heavyweight championship boxing contest.
Under a high ball, it was not Anthony Joshua but Navas who caught Ronaldo in the face with his forearm.
Both dropped like defeated boxers.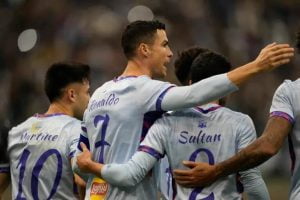 Ronaldo clutched his head, stood back up, yawned widely as if to test his painful left cheek, and then deceived his former Real Madrid teammate Navas.
Ronaldo's cheekbone was apple-red at the conclusion of the first half, but he was all grins after scoring his second goal on a rebound after his header hit the post. Ronaldo rolled away with his tongue sticking out and was swarmed by teammates at the corner flag.
When PSG star Kylian Mbappé inquired about the condition of Cristiano Ronaldo's cheek right before the second half, Ronaldo milked the limelight and pointed to the red mark.
Highlights:
Mbappé grinned at Ronaldo as if to say, "You'll be OK," Ronaldo triumphantly lifted his arm like a heavyweight champion.
Messi's Qatari-backed PSG defeated a combined XI of Saudi Arabian teams Al Nassr and Al Hilal, captained by Al Nassr's new player Ronaldo, 5-4 at King Fahd International Stadium in front of 68,000 people. Despite his team's defeat, Ronaldo prevailed in what may have been the final chapter of Ronaldo vs. Messi as one of the greatest rivalries in soccer restarted in an unusual place.
Messi's strike resulted in a handball and Mbappé's penalty kick goal for PSG's fourth goal.
Just after the hour mark, Ronaldo was replaced by Mbappé and Argentina's World Cup-winning sensation Messi, who fellow countryman Marcelo Gallardo, the coach of the joint Saudi Arabian team, warmly embraced.
As he accepted the man-of-the-match award, Ronaldo's bruise grew darker alongside the night sky.
Before the medal ceremony, he was engaged in conversation with ex-Madrid teammates Sergio Ramos and Navas. Then he spoke with his PSG-playing Portugal colleagues Renato Sanches and Danilo.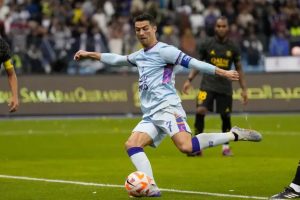 Ronaldo was nowhere near Messi; it was almost as if they avoided one other. Earlier on the field, when Ronaldo tackled Messi in the second minute, they were unable to do so.
Moments later, Messi scored off a lofted pass from Neymar. Ronaldo was angry that his colleagues had allowed Messi to escape into space. Few defenders have ever even tracked Messi's runs, much less stopped them. If ever there was any doubt, the World Cup showed it.
Former Madrid superstar Ronaldo and Messi, his bitter rival during Barcelona's glory days, had little interaction.
Ronaldo cautiously approached an impassive-looking Messi at the centre circle just before the whistle blew to open what could have been their final game as adversaries.
There was a brief handshake and a courteous exchange.
Messi gazed at Ronaldo late in the first half when PSG defender Juan Bernat was sent off, but Ronaldo appeared to avoid Messi's gaze.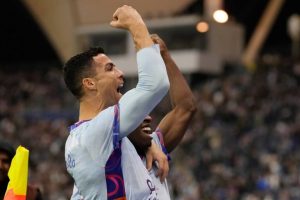 In the tunnel before the game, Ronaldo embraced Ramos, who now plays beside Messi, and joked that Ramos had forgotten to remove his ear stud.
Later, when he air-kicked a loose ball for Ronaldo's second goal, Ramos had the last laugh. Neymar missed from the penalty spot for PSG.
Before the match began, spectators hoisted Argentina flags while others proudly displayed Al Nassr's yellow jersey bearing Ronaldo's No. 7 on the back. As Ronaldo led his squad out of the stadium, the ticker tape began to flow. Upon receiving a thunderous ovation, he smiled and winked.
Ronaldo might complete his illustrious career in Riyadh after reportedly signing a $200 million-per-year contract, trading the European Champions League for the Asian Champions League.
He makes his debut for Al Nassr against Ettifaq on Sunday, far from the fields where he excelled for Manchester United and Real Madrid.
INTENSE RIVALRY
The competition between Messi and Ronaldo is arguably the greatest of all time.
They have a combined 12 Ballon d'Or honours, with Messi holding the record with seven, and 56 major trophies. Ronaldo has won the Champions League five times, whereas Messi has won it four times. Messi has scored 26 goals in "El Clasico" history, eight more than Ronaldo for Real Madrid.
Ronaldo won the 2016 European Championship, but Messi was outstanding in Argentina's Copa America and World Cup victories.
Ronaldo is the all-time leader in men's international soccer goals with 118, while Messi's seven goals at the World Cup moved him to third all-time with 98 goals.