On Monday, Prime Minister Narendra Modi named 21 Andaman and Nicobar Islands after Param Vir Chakra recipients.
During an online event commemorating the birth anniversary of Subhas Chandra Bose, Modi displayed a model of a proposed memorial to be erected in the Andaman and Nicobar Islands.
"Today is a proud day for me as I address the people of the Andamans, as this is the region where Subhas Chandra Bose first raised the national flag in 1943," Modi remarked.
"Islands named today after Param Vir Chakra recipients will be the place of inspiration for future generations," he said, adding that it is a message of the immortality of the sacrifices given for the country and the courage and valour of the Indian Army.
Modi remarked that the soldiers came from different places, spoke different languages and dialects, and lived varied lives, but that their duty to the nation bonded them. "Just like the sea connects many islands, the sentiment of Ek Bharat and Shrestha Bharat joins every child of Mother India," he remarked.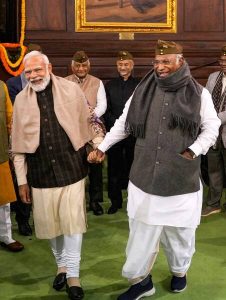 The islands were named in honour of Major Somnath Sharma, Subedar and Hony Captain (then Lance Naik) Karam Singh, 2nd Lt Rama Raghoba Rane, Nayak Jadunath Singh, Company Havildar Major Piru Singh, Capt G S Salaria, Lt Col (then Major) Dhan Singh Thapa, Subedar Joginder Singh, Major Shaitan Singh, CQMH Abdul Hamid, Lt Col Ar
Earlier in the day, Modi paid respect to Netaji Subhas Chandra Bose on his birthday, Parakram Diwas, by stating, "Netaji Subhas Chandra Bose will be remembered for his uncompromising opposition to colonial oppression." "We endeavor to realize his vision for India, which was profoundly affected by his ideas."
"Attempts were made to obliterate Netaji's role in the independence movement, but today the entire nation remembers him," he remarked. He stated that many people had long demanded that Bose's files be made public, but it was his government that eventually declassified them.
The proposed memorial will be constructed on Netaji Subhas Chandra Bose Dweep, which was renamed Ross Island in 2018. An official stated that it would also feature a museum, a cable car ropeway, a laser-and-sound show, a guided heritage trail through historical buildings, and a theme-based children's amusement park.
Earlier, Union Home Minister Amit Shah praised the move to name the 21 islands, stating that it would serve as a source of inspiration for the nation's military services. The government stated, "The largest unidentified island will be named after the first Param Vir Chakra recipient, and so on."
In the meantime, President Droupadi Murmu tweeted, "On Parakram Diwas, we honour one of Bharat Mata's greatest sons, Netaji Subhas Chandra Bose." Netaji epitomizes tremendous courage and patriotism. Under his leadership, millions of people joined the fight for India's independence. Indians will be eternally in his debt."