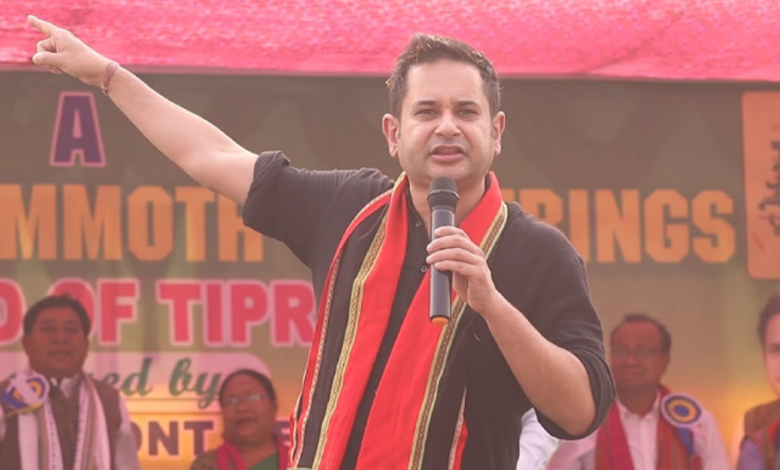 TIPRA Motha founder Pradyot Kishore Debbarma said Wednesday that his party's talks with the central government were progressing well, but "a section of people in Agartala" were trying to stymie progress.
Pradyot referred to this "section of people in Agartala who always play a negative role, speak for weakening demand of tribal rights, divide tribals, and weaken thansa (unity) and our identity" in a video message to his supporters, without explaining more.
He asked his supporters to launch a big yet nonviolent movement that would have an impact in New Delhi. "I urge everyone to join me in a peaceful movement to bring a united tribal voice to Delhi, not of TIPRA Motha or the IPFT or anyone else, but of the entire tribal community."
"This movement will not be anti-community or anti-religious. Everyone will notice that the protest will be nonviolent. The time has come for all of us to band together and do something that our children and grandchildren will be proud of… "The time has come to put pressure on the Indian government to protect our constitutional rights," he continued.
Pradyot further stated that tribals will have to fight the central government for their rights before the projected delimitation of parliamentary constituencies.
"Our discussions with the Government of India are going well, but let us not forget that delimitation will occur." Tiprasa's condition would deteriorate more after that. Tiprasa will be alive after delimitation if we achieve our constitutional rights today. If we don't get anything and the delimitation happens, we're done," he remarked, implying that the tribal voter base in the state's Scheduled Tribes constituency of East Tripura might be separated.
West Tripura is the only other Lok Sabha seat in the little North-east state of 37 lakh people scattered across 10,491.69 square kilometres.
TIPRA Motha was launched in 2021 after many regional tribal political parties and social organisations banded together to promote Greater Tipraland. While one constituent, the Tipraland State Party, has lately split to re-emerge under its previous name, the majority of Motha's support base remains intact, and the party wields tremendous power in the East Tripura seat.
Despite the recent withdrawals from Motha, the party leadership is in a bind, so much so that Pradyot, who had stood down as chairwoman, has returned as a member of the Central Working Committee, the party's highest policy-making body.
Pradyot informed Motha supporters earlier this week that he had met with home ministry officials in New Delhi about the tribals' concerns and was hopeful of a breakthrough in the next one or two months.
Related Posts